Welcome to the Underground Ernie Wiki!
Welcome to the Underground Ernie Wiki, where you can find out all about the adventures Ernie and his pals get up to on International Underground!
About Underground Ernie
Underground Ernie was a British Computer-animated children's television series produced by Joella Productions in the UK on the BBC on both CBeebies and BBC Two, and sold around the world by BBC Worldwide. It is set in International Station, a fictional worldwide Underground network, and focuses on the everyday adventures of Ernie, a friendly Underground supervisor, Millie, his multilingual colleague and Mr Rails the lovable maintenance man. The locomotives under Ernie's watchful eye all have characters of their own. There is Bakerloo, Victoria, Circle, Jubilee and the twins, Hammersmith & City. From time to time they are joined by their friends from across the world including; Paris, Brooklyn, Moscow, Sydney and Osaka. The series lasted for 26 episodes.
Featured Episode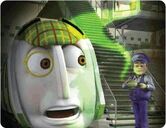 The Magic Lamp is the twenty-second episode of Underground Ernie. It originally aired on CBeebies on November 14th 2006. Ernie finds a magic lamp on his rounds, and Bakerloo fuels the imagination of the others with tales of genies and wishes. What they both don't know is that the lamp is simply a theatre prop!
Read all about the other episodes here!
Featured Character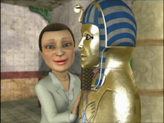 Miss Relic is the curator of the museum, she is the go-to lady when it comes to anything historical. She once helped to save the nature reserve after donating a valuable painting to a jumble sale!
Read all about the other characters here!
Featured Location
Mystery Mansion is located on Bakerloo's line, an Arthurian castle rich in history and atmosphere, it's home to the legend of Sir Clunkalot and many medieval celebrations.
Read all about the other locations on the Underground here!
Photos and videos are a great way to add visuals to your wiki. Find videos about your topic by exploring Wikia's Video Library.
Community content is available under
CC-BY-SA
unless otherwise noted.