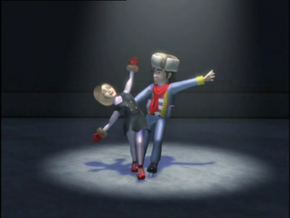 Sasha 
and his partner 
Natasha 
are two famous Russian ice skaters. They are world famous for their skating routines and great balance.
Persona
The pair are always happy to visit new places, and plan meticulously for their ice skating routines. Natasha is the more athletic of the two when it comes to their routines, while Sasha is the most balanced.
Attire
Sasha wears a blue jacket with green cuffs over a blue and white striped shirt, red scarf and blue and green trousers. He also wears a Russian cap.
Natasha wears a small black dress and red boots, and red gloves. She too wears a Russian cap, but removes it during skating. When she isn't skating, she wears a large black jacket over her clothes.
Appearances
Gallery
Community content is available under
CC-BY-SA
unless otherwise noted.