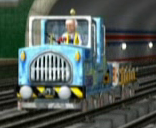 The Multi-Tooled Maintenance Machine is Mr Rails' primary mode of transportation. It's fitted with a crane, and carries a truck behind it to transport large goods, which has also been fitted with a ladder.
Usage
The machine has various uses. Among its uses are a crane to pick up small objects from the tracks and rubbish disposal. When Ernie used it, the machine had been fitted with an extendible ladder to perform rescue operations in high places.
Livery
The Multi-Tooled Maintenance Machine is painted light blue with amber lights, while the buffer beam is painted in yellow and black hazard stripes. The truck is painted brown and carries a small ladder on its side.
Appearances
Series 1 - Sir Clunkalot, Mr Rails Never Fails, Pulling Together, Caught Purple Handed, Finders Keepers, Mr Movie Jones, Elementary, My Dear Bakerloo!, How Great The Art, The Mayor's Visit, Techno Trouble
Trivia
It was also once driven by Ernie in the episode The Mayor's Visit.
Gallery
Community content is available under
CC-BY-SA
unless otherwise noted.