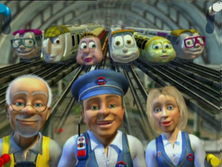 This article lists the characters that appear in Underground Ernie. 
Underground workers
Ernie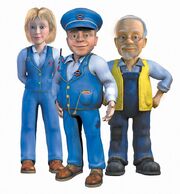 Ernie is the main character of the series who works as the controller of International Underground. He is always on hand to help out trains and passengers.
Millie
Millie works in the control tower of International Underground handling the technical aspects of the job. She loves travelling and escapes abroad every weekend.
Mr Rails
Mr Rails is the lovable maintenance man who has been working at International Underground for 25 years. He loves fixing and inventing things. His catchphrase is "Mr Rails never fails!"
Trains
Victoria

Victoria is the oldest of the underground trains. She cares for her colleagues deeply and loves telling them stories from the past.
Circle
Laid-back hippy chick Circle loves nature and animals. She is a very helpful young lady and is always willing to help anyone.
Bakerloo
Bakerloo is the eccentric detective of the railway. Known for his sharp attention to detail, he loves a good mystery as it always gives him the chance to search for clues. 
Hammersmith and City
Two fast and furious trains, the twins Hammersmith and City love to argue happily and outsmart each other. City is a mathematical genius while Hammersmith is a whiz at general knowledge and trivial pursuit.
Jubilee
The youngest member of the Underground family, Jubilee loves to have fun and is a whiz at technology, always following the newest trends.
International Trains
Brooklyn

Brooklyn is from America. He is decorated in the American Stars and Stripes and loves to try new things.
Paris
Snooty but kind, Paris from France likes to run on time and keep his train clean.
Moscow
A big, gentle giant, Moscow is a hardworking Russian train who loves snow and is very strong and fast.
Sydney
Sydney is from Australia. She's very laidback and loves to relax at the beach and see her Underground friends.
Osaka
Calm and wise Osaka comes from Japan. He loves to show off new gadgets and is good friends with Jubilee.
Other characters
Dr Hart
Dr Hart works at the hospital on Victoria's line.
Pippa
Pippa works at the nature reserve on Circle's line.
Farmer Sprout
Farmer Sprout runs Sprout's Organic Farm on Circle's line.
Alice
Alice is a tour guide who works at Mystery Mansion on Bakerloo's line.
Miss Relic
Miss Relic is the curator of the museum on Victoria's line.
The Underground Entertainer
The Underground Entertainer is a busker who plays on all the trains' lines.
Sam and Dan
Sam and Dan are Ernie's mischievous nephews. They attend the school on Hammersmith and City's line
Community content is available under
CC-BY-SA
unless otherwise noted.