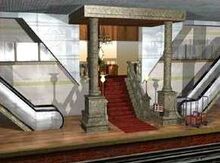 The Hollywood Hotel, sometimes known as Hotel Station, is a station on Jubilee's line that welcomes guests and visitors to the city. As well as taking in guests, the hotel also caters for special events, such as Mr Rails' surprise party.
Structure
The hotel can be accessed via a grand staircase or an escalator. There are staff assigned to take the baggage of visitors, with trolleys available for them to use.
Notable guests
Guests of notability who have stayed at the hotel include ice skating champions Sasha and Natasha as well as pop star Sam 7. Millie once stayed here after winning her Dream Day with Tunnel Times.
Gallery
Community content is available under
CC-BY-SA
unless otherwise noted.