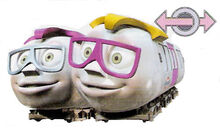 Hammersmith and City are the two twins of the Underground. They like happily arguing and attempting to outsmart each other.
Persona
Two fast and furious trains, Hammersmith is a general knowledge trivia genius, while City is a whiz at maths and loves banking. The two are inseperable, but can get on each other's nerves at times, particularly when stressed.
Livery
The twins are both painted silver with their logos on the side of their carriages. Hammersmith has a purple rooftop and blue glasses, while City has a yellow rooftop and purple glasses.
Appearances
Series 1 - Pop Decoy (Hammersmith speaks; City does not speak), Sir Clunkalot, Mr Rails Never Fails, Brooklyn and Rocky Two-Shoes, Pulling Together, Caught Purple Handed, Ernie's Big Trip, Finders Keepers, The Magician's Assistant, Cover Story, Millie's Dream Day, Mr Movie Jones, Summer Breeze, Running Late, Light At The End Of The Tunnel, The Wreck Of Sea Shell Bay, Catnapped, Monster Mystery, Bon Appetit, A Change Is As Good As A Rest, Elementary, My Dear Bakerloo!, The Magic Lamp, How Great The Art, The Mayor's Visit, Techno Trouble, Snow Go
Merchandise
Bachmann (discontinued)
Halsall

Die-cast (both discontinued)
Pull-back (discontinued)
Battery operated (both discontinued)
Quotes
Hammersmith
All aboard! Off we go!
Red sky at night, Underground delight.
All aboard for the loop-the-loop!
Fantastic.
City
Jump on and let's go!
Cool!
You can count on us!
That;s great!
Gallery
Merchandise Gallery
Community content is available under
CC-BY-SA
unless otherwise noted.