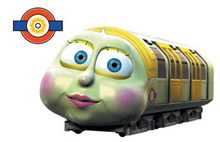 Circle is the laidback hippy chick of the Underground. Friendly, relaxed and gentle, this helpful young lady is always willing to help Ernie and the other trains whenever she can and rarely, if ever, does she lose her cool. 
Persona
Circle enjoys nature and is very passionate about animals, regularly checking in on Pippa at the nature reserve. She is a very helpful train and friendly to everyone.
Livery
Circle is painted light green with yellow stripes and doors. Her logo is painted on the sides of her carriage.
Appearances
Series 1 - Pop Decoy, Sir Clunkalot, Mr Rails Never Fails, Brooklyn and Rocky Two-Shoes, Pulling Together, Caught Purple Handed, Ernie's Big Trip, Finders Keepers, The Magician's Assistant, Cover Story, Millie's Dream Day, Mr Movie Jones, Summer Breeze, Running Late, Light At The End Of The Tunnel, The Wreck Of Sea Shell Bay, Catnapped, Monster Mystery, Bon Appetit, A Change Is As Good As A Rest, Elementary, My Dear Bakerloo!, The Magic Lamp, How Great The Art, The Mayor's Visit, Techno Trouble, Snow Go
Merchandise
Gallery
Merchandise Gallery
Community content is available under
CC-BY-SA
unless otherwise noted.